Electrical Appliance Testing and Tagging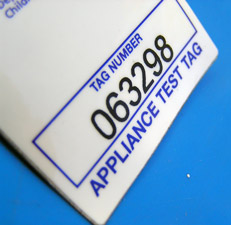 Apt Test and Tag is a business which is structured to support micro business. If your business employs less than 10 people then you need to talk to me.
Why?
My mindset is to assist micro business.
I want to work for you, unlike other operators who only book big jobs and fit small business if they can.
I am the person you deal with and who works to provide a service to you.
When we organise a time, I will be there.
If something happens that I can't be there, I will call you.
If your business is anywhere north of Greenhill road, in Adelaide, I am located to assist you.
Apt Test & Tag will provide documentation of
A Certificate of attainment in Test and Tagging
Business insurance
First aid certificate
Health and Safety policy
DCSI screening (Department for Communities and Social Inclusion)
(Can work in DECD sites, and in services that are for children and young people)
Apt Test & Tag operates to certified Work Health Safety principles
Work Life Smart Systems (WLSS), provides a wide range of services to businesses that assists them to not only implement a WHS system, but provides the support to ensure businesses continually improve and maintain their system. Apt Test and Tag uses this support to guarantee the upmost backup to the business, therefore your business. See more about this WHS system at http://wlss.com.au/
Apt Test and Tag will:
Deliver a safety inspection and testing of all your electrical appliances and devices
Complete a visual inspection for damage especially to the insulation
Check there is no electrical insulation leakage
Complete earth circuit testing
Attach a Tag stating date tested, retest date & serial number
Produce an asset register
About Apt Test & Tag

Barry Mercer has provided quality customer service throughout his working life.  Barry can complete your electrical test and tagging in your workplace with minimal disruption to the working day.  Clients have commented on Barry's exceptional  level of politeness and respect to staff teams and site leaders.  He has operated within various workplaces including schools and preschools.  Barry is also employed  part-time in a primary school environment and is well aware of the needs and mindfulness required within an educational setting. Barry has a police check, public liability insurance, his white card  and knowledge of your sites electrical appliance test and tagging requirements.
Ensure your electrical "appliance compliance"  with apt test & tag
Don't delay. Submit an inquiry now to complete your test and tag compliancy.